Welcome to meet us in New York at DCAT Mar every year at Waldorf Astoria.
Address:301 Park Avenue, New York, New York 10022-6897, USA.
Welcome to meet us at CPHI Shanghai every year.
Email: lisa@alliancepharm.com
ALP Pharm began to manufacture some APIs in the partners facilities since 2007. Some of our APIs have been approved by EDQM and US FDA.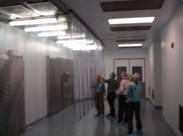 Our professional regulatory compliance experts in the USA, United Kingdom and India have more than 10 years Western cGMP experience. Prior to working for ALP Pharm, they have helped more than 30 pharmaceutical companies achieve ANDAs and DMFs, and also helped some branded companies to pass FDA inspections for the NDA and IND. Meanwhile, they helped some European pharmaceutical companies to get licenses for finished drugs including oral solid dosages and injections, as well as COSs and EDMFs.

Our local Chinese members each have more than 8 years of cGMP compliance work experience in some of the main state-owned pharmaceuticals companies that were inspected and approved by the US FDA and EDQM. They are now working hand in hand to ensure that all documentation meets the necessary requirements of our customers in North America and Europe.

ALP Pharm's rapid business growth has been based on the knowledge and integrity of its core management team, technical and regulatory executives from China, the U.S., and EU countries.

ALP Pharm is representing some finished dosages manufacturers and selling their finished dosages in EU and North America, esp. for those products that ALP helps pass MHRA / FDA / TGA inspections.